Für unsere Jungunternehmerin Rimante neigt sich ihr Erasmus für Jungunternehmer-Austausch deutlich dem Ende zu. Mit der Arbeitserfahrung von nunmehr 5 Monaten wird sie in vielfältige Aufgaben eingebunden.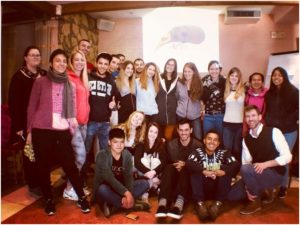 During May in my Erasmus for Young Entrepreneurs program I have been more involved in project implementation activities.
Together with colleagues we implemented Voicity Community reporter training, where I learned new storytelling methods and the community reporting methodology.
I was also working with newsletters, writing articles, moderating focus groups and other project content creation.
The highlight was a capacity building KA2 Youth training that took place in Sassari. I was involved in logistics and co-facilitation, which was a very exciting opportunity.
MVNGO is a partner organization in the Erasmus Plus Capacity Building Youth project "A Path to TranSportAction" (APTSA), coordinated by the Croatian organization "Rijeka Sport's Association", The project involves a total of 5 organizations from Europe (Croatia, Italy, Bulgaria) and Latin America (Brazil and Peru), whose main aim is to enhance the capacity of youth organizations and stakeholders in all partner countries and beyond to use Sport in combination with high-end Non Formal Education methodologies for fostering a gender-inclusive approach to Sport practices, contrasting sexism and gender stereotypes and promoting equality and mutual respect among genders in disadvantaged rural areas in Europe and in Latin America.
Other tasks
Training and project management along with the MVNGO team
Continue the delivery of workshops
Refining the business plan
Attending networking events