"working under pressure and tight schedule" – das ist das Motto von Rimantes 4. Monat bei ihrem Gastunternehmem in Italien, bei dem sie im Rahmen von Erasmus for Young Entrepreneurs einen Austausch mitmacht. Warum genau ihr 4. Monat so ausgefüllt war? Lest selbst.
Like I mentioned last month, in March, project work continued. 21st of the month was another deadline – KA2 strategic partnership for adult education and VET. April 26 was another deadline – KA2 strategic partnership for Youth. This time I was trusted the task to design the project on my own.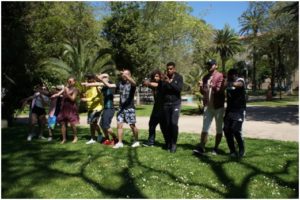 This means, I could come up with the concept, research the context, do the needs analysis, find the and build the partnership. This was an exciting opportunity for me, as I love creating new ideas, do research and developing the curriculum, thinking about the implementation in case the project is successfully funded.
Besides that, I was supporting the facilitators of the "You Parkour".  "You Parkour" (YP) is a Youth Exchange that deals with the use of street arts, like Hip Hop and Parkour with a dual aim: promotion of healthy life style and civic awareness whilst valorising the decadent urban spaces.
The countries involved in the project are the following: Italy and Sweden – in total 44 participants. The overall aim of the project is to foster creative and innovative methodologies of non-formal education between Sweden and Italy creating an important educational path between the two countries.
The combination of Hip Hop and Parkour is used because it is a perfect communication channel to reach nowadays teenagers since the sub-culture of young urban citizens is pretty familiar with the use of street arts as a social glue among peers. I took great pleasure in being part of this project, as I learned a lot as a facilitator, as well as had a lot of fun with amazing young people.
And, like always, especially with the weather becoming summer-like, I am exploring the best of Sardinia, and I am in love.