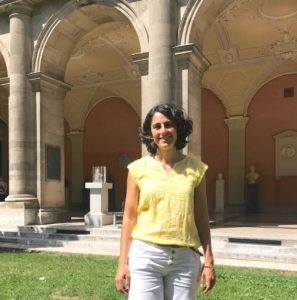 BUPNET begleitet eine neue Jungunternehmerin bei ihrem Austausch. Vesselina wird für 4 Monate bei Mathias in Wien sein, von ihm lernen, sich mit ihm austauschen und Erfahrungen sammeln. Der 1. Monat ist inzwischen vorüber.
From the very beginning, my stay at SuperSocial in Vienna was full of excitement and inspiring moments. Right on the second day of my arrival my host, Mathias, invited me to attend one 4- hour- workshop at one of his clients. Thus, I could not only gain an insight into the field work of Supersocial but I could also learn a lot of about Facebook's algorythm. Additionally, I had the chance to follow a client discussion and to find out what social media clients need. This start in medias-res was extremely worthwile because later in the office we worked on a concept for the same client. I was already able to learn about managing different social media tools and creating content for these. Since SuperSocial is working on several different fields our weeks so far consisted of client workshops, working on concepts in the office and attending the non-profit project "Leading with PRIDE". During all activities I was able to explore Facebook, Instagram and to learn many more exciting things about the digital world, and to get an insight into non-profit, non-educational projects. The last activity also enabled me to extend my social network on an international level with many great and supportive people.
By producing videos and images for the non-profit project, I was also able to extend my photography and videography skills. I found it particular valuable that I had the time, space and nice people during the projects to try out different ways of interviewing people, to create different settings and takes. This way, I could improve my own videography skills and find out which shots work best and how to edit in the post-production so that the material can be best used for social media. Mathias' feedback and ideas were very fruitful during these processes.
Even though some weeks are quite busy and intense, I had enough time to explore Vienna and visit many of the famous sight seeings like the Karl's Square, the Opera, the castles of Belvedere and Schönbrunn as well as just to chill down at the Donau river during the hot afternoons.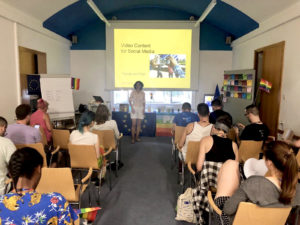 This picture shows me holding a presentation on how to record videos for Social Media during the "Leading with PRIDE" project. The participants were then requested to record interviews and video material that they had to edit for Facebook the day after. Getting the opportunity to hold the presentation was also a great chance for me to practice talking about the topic in front of a bigger group of people. That is definetely an experience that will be very important for my own business as I consider implementing workshops on videos for social media as an additional service.
The image at the beginning shows me in the garden of the amazing University of Vienna.