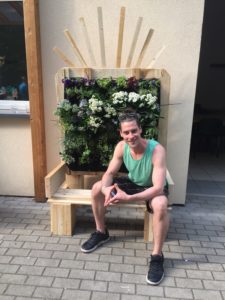 Für Sky neigt sich sein Erasmus für Jungunternehmer-Aufenthalt in Polen allmählich dem Ende zu. Fünf Monate ist er inwzischen in Warschau, in denen er allerhand gelernt und erlebt hat.
Here is a recap of the work in Warsaw during July.
Going through 65 applicants choosing 32 for the living mural workshop
Creating program: lessons, exercises, reflections, games in Erasmus style
Arranging local speakers from EIT QED and Green Phoenix, Art Rio, Leroy Merlin, Food Waste Activist, abundant earth foundation

Printing materials
Ordering supplies
Welcoming participants and being in charge of their experience and well-being and meal schedule
Seven days executing workshop at a community camp
Doing interviews and promotional material
Google campus tower tour
Working with Grow Room for future Project
Investor meetings with BNP Paribas and Forbes contacts
Restructuring business plan based on local opportunities
Evaluation of workshop outcomes (google forms poll to participants)
Meeting with Unicef implementing partner about WB+6 opportunities for upshift workshop or agripreneurship
The photo shows me in front of our youth inspired and built chair garden during a Mladiinfo Living Mural workshop.