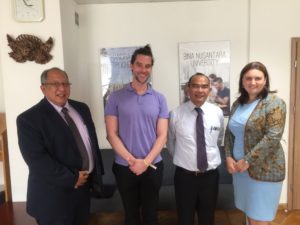 Für Sky ist mittlerweile der 4. Monat seines Erasmus für Jungunternehmer- Austausches vorbei. Seine vielfältigen Aufgaben in dieser Zeit hat er aufgelistet:
We had a fast acceleration and pick up of speed. Probably the most challenging month, emotionally, mentally, and physically than ever. But we survived.
Production Schedule creation for 7 day workshop, activities, agenda, logistics, communication, and materials.
Google Campus meetings for Humanitarian Expo prep.
Teaching tower construction to interns and running an agtech workshop.
Humanitarian Brand Message of Potential Pop-up farms and youth volunteers project presentation for disaster: creating a narrative and presentation for expo leaders (including the polish president, UN General Secretariat, and ambassadors).

Expo -managed sponsors, team, logistics, message pitch, handling of promotional material, printing, supplies, and connecting with unicef, un dv, WHO, WFP, doctors without boarders, and local tech company wanting to sponsor sensor research with us.
Evaluation of Expo to determine outcomes.
Choosing 30 participants from 65 applications for living mural.
Meeting with Indonesian Embassy to discuss possible sponsorship .
Preparing for Sustainable Leadership Day Camp at Jazdow in July.
Interviewing participants and interns with new recruiting methodology (six traits we are looking for).
EITfood Innovation Event. Pitching to local investors.
The picture shows me with the Ambassador of Indonesia who invited us to pitch about urban farming and how to get Polish Youth involved in cross-cultural exchange.