Vladimir war während seines Austausches mit Erasmus für Jungunternehmer in Warschau. Sein Aufenthalt betrug zwar nur knapp 2 Monate, war aber intensiv: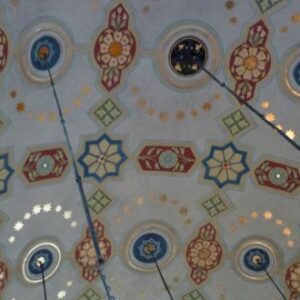 Due to personal issues I had to shorten my exchange to with my HE Maria and her tourist company Turnus from five months to a month and twenty days. Thus, June 2018 was the second and the last month of my exchange. I agreed with Maria to cancel our previous plan of organizing together a tour to Lvov, Ukraine and we focused mainly on my plan to organize an educational tour on icons at the Studenica monastery, Serbia in the mid September 2018. My main activities during the twenty days of June 2018 was writing a brief and targeted description of my tour, emphasizing the clients' profits from the tour, calculating the budget for the tour and selling the tour on the international market. My HE helped me to design an attractive program for the tour, to set legal conditions for clients, such as the booking process, payment and cancellation policy and to calculate a budget. The last week of my stay in Warsaw consisted of advertising and selling my academic tour mostly to USA customers.
My daily routine consisted of completing practical tasks assigned to me by Maria, like calculating the budget, writing the tour description, daily program, etc. After accomplishing my tasks, my HE corrected the mistakes I made and she gave me advice on how to proceed. Thus, apart from learning how to realize a tour through shadowing my HE in her execution of the tour in Brno, I gained knowledge of how to plan and prepare a tour and how to deal with unexpected occurrences. The process of planning the tour in Serbia included also some challenges. We had to compare different national legal conditions of tour operating, because Maria deals within Polish legal settings, my future company will be based in Germany, and the tour I plan will be realized in Serbia and sold to the clients from USA.
I could acquaint my HE with the rising tendency in the international academia to design academic programs as touristic products. We agreed to continue our cooperation in two directions. The first direction is in Turnus' participation in the process of selling the academic tours I organize on the Polish and international market with the agreed commission of 20 percent. The second direction is Turnus' direct involvement in organizing the tours in Germany for the academic groups I gather. I consider my stay in Warsaw and the cooperation with Maria very beneficial for my future business.