Was Vesselina in ihrem 3. Monat in Österreich erlebt hat, schildert sie uns in ihrem neuen Bericht.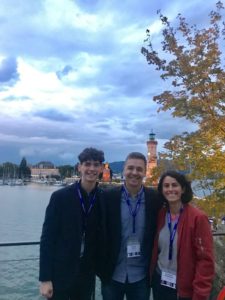 Looking back at this month and almost approaching the end of my erasmus programme I am very happy I had the chance make this exchange with SuperSocial. Since the world of digital tools and the world of videos cross each other in many different ways I appreciate every new insight I get and everything new I learn. Recently, Mathias had organized a programm called "Digization" that provided knowledge and experience in working with different digital tools like Kahoot, Slack, Mindmup, Franz, Mentimeter and how to use Whatsapp Messenger for Business. Here, I did not only learn a lot about these new tools but I could also establish new important contacts.
As creating videos is becomes an even more and more essential part for everyone that has to manage social media we did also a workshop in videography by Francis Raphal – an expert videomaker working for more than 10 years in the field. For me, it was extremely wortwile to have the exchange with Francis and learning some additional tricks in video shooting and editing for social media. This workshop provided me with further concrete ideas for my own concept for videos in social media. Besides, now I have a new contact that I can request for feedback and support when needed. Already during our course I could improve some of my shooting techniques and I learned a new software programme, the OBS Open Broadcaster Software – for qualified video/audio recording and live streaming. This I already implemented in my concept for video tutorials on digital tools.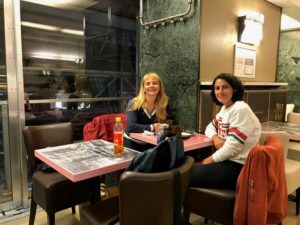 Another wonderful experience that is actually part of my private life in Vienna was to discover an old friend of my mine that I was studying with for a couple of years together at the University of Cologne. We had lost contact for a couple of years as she moved back to Bulgaria, where we both originally come from, and she had changed her phone number. Now thanks to Facebook I found out that she is also staying in Vienna and working for the Bulgarian embassy. One of the images show my friend, Jana, and me in Aida Café – the best Café in Vienna. The other picture is showing Mathias, Patricio and me during a conference that we supported with social media management.