The second month here in Galicia is almost over and a lot has happened – in my project and the Foundry.
Working with Dennis is great, he is very open to show me everything and takes his time to go in depth with certain topics, we get lost in conversations quite often. He also has taken me to community events around the area. My favourite one was a rewilding activity for the eucalyptus monocultures. I learned a lot about the ecosystems including eucalyptus monocultures here as well as the economic and social problems and opportunities connected to them. It's a complex topic, but it really is crazy how eucalyptus has overtaken the forests here.
The time here has really propelled my research for my project too when it comes to house renovation planning, prices and the legal conditions. Inspired from Dennis and my new environments, I also gained new ideas for future events, community building activities and educational offers for my learning center. The best thing is that I have come to learn about all legal entity possibilities for my project and believe to have found the best option for it's thyme and our learning center, the "Hope Hub".  I have researched about the steps to found a non-profit Spanish association, which is what we will probably create.
It feels like it will be all coming together slowly – and I am only here for two months, I cannot wait to spend more time learning, progressing, planning and implementing next steps for my project. Furthermore, the next weeks look interesting as Dennis and I are talking about teaming up for some first events together.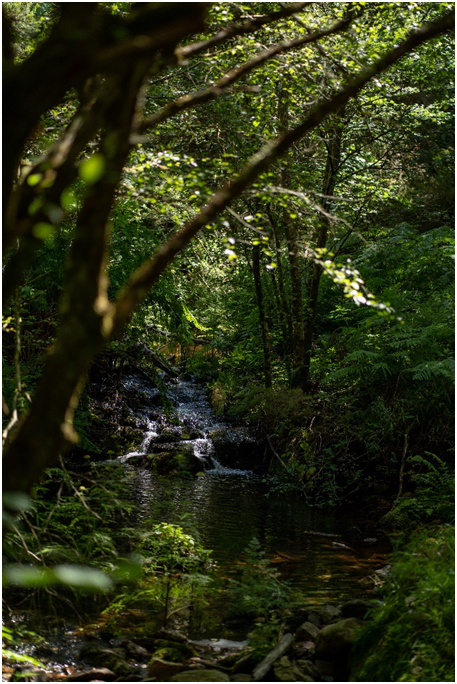 Next to all the project developments, we have had some crazy weather, 2 weeks of pure sunshine and 30 degrees, which allowed me to spend some more time by the beach, in the water and visiting some more places by the beautiful coast and forests. I also started "ice-bathing" in the mountain water river, which is already quite cold. The picture shows the spot where I mostly go to which is close to where I live – it's so beautiful! Now it's raining and stormy again, let's see what November will bring!