A very exciting first month is over. I came to Galicia to learn more about the wonderful community project "The Foundry" of Dennis while also working on the expansion of my project "it's thyme". My vision is to build a learning center for sustainability and social innovation in Galicia through renovating an old stone house in a sustainable traditional way, creating a sustainable food forest, building community around it, offering educational programs and throwing event and much more.
Because Dennis has founded a project in Galicia which included the renovation of old stone houses, community-building and sustainability, I was excited to get to know his project better and learn from him. He welcomed me warmly, showing me around and introducing me to the people and animals currently living there. We dedicated a lot of time to getting to know each other's projects through presentations and just lots of conversations in the office, the Foundry's community rooms or in the garden. Next to that I soaked up all the impressions about the community life at the Foundry as the way the project is designed around self-organization is very fascinating to me. There have also been some small events happening at the Foundry such as a discussion night around gentrification in Galicia, which I joined and a hands-on workshop around pottery. It's nice to see how broad the activities are here.
Next to the impressions at the Foundry, I feel very lucky to be in this part of Europe as it is truly beautiful with all the amazing forests, mountains and valley views, really magical beaches and long coastline full of nice spots to ex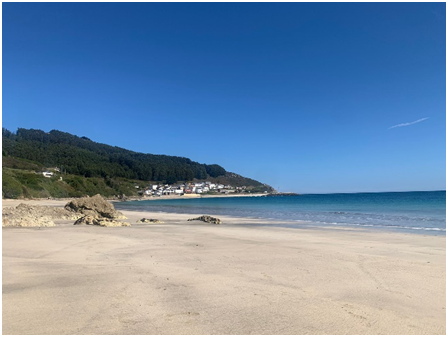 plore. So far, the environmental factors such as the climate, flora & fauna here in Galicia are very supportive for my project. I am looking forward to the next months ahead of me and am curious what else I will encounter and learn. However, I can already say that I truly feel grateful to be part of the EU once again to enjoy such great exchange program that will surely help me and my project grow a lot!